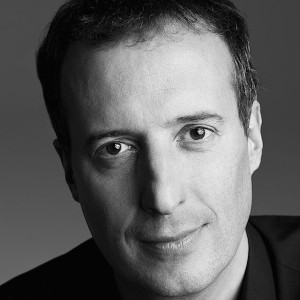 Ivan began conventional piano lessons at the age of 10, made his first attempts at improvisation on trumpet a little later, and discovered jazz when he was 17.
A masterclass with Michel Herr (then pianist with Toots Thielemans) convinced him to pursue jazz full-time and, in 1988, after six months at Antwerp's jazz studio, and one year at Rotterdam's Royal Conservatory (where he studied with Rob Van Kreeveld), he joined the groups of American guitarist John Thomas, Italian trumpet player Gino Lattuca and Belgian trombone player Phil Abraham.
Work with Abraham earned him 2nd prize at 1989's "International Jazz Competition at La Défense" in Paris, and he took 1st prize at "Brussels's Jazz-Rallye" the same year with Lattuca's band. That same year, with friends Vincent Mardens on saxophone, Patrick Deltenre on guitar, Benoît Vanderstraeten on bass and Mimi Verderame on drums, Ivan formed the quintet Aftertouch, to play original fusion music.
The album "Aftertouch" (B-Sharp Records) was released in 1990.
From 1990 to 1992 he toured Belgium, Germany and France with his own group, France with Brasilian singer Marcia Maria, and enjoyed the experience of playing support for Bill Evans, Didier Lockwood, Hermeto Pascoal, Mike Stern, and many others.
1992 saw the release of "Turquoise" (B-Sharp Records), with Patrick Deltenre ­ guitar, Peter Vandendriessche ­ sax, François Garny ­ bass and Mimi Verderame ­ drums, featuring mostly Paduart originals.
"Illusions Sensorielles" (Igloo) followed, using Ivan's own compositional mix of straight-ahead jazz and lyrical impressionism spiced with latin influence. For this project, the trio of Paduart, Philippe Aerts (bass) and Bruno Castellucci (drums), was augmented by guest appearances from Chris Joris on percussion, guitarist Patrick Deltenre, and the Piazzola protégé, jazz accordionist Richard Galliano.
This repertoire earned him the 1993 Nicolas Dor prize for composition at the International Jazz Festival of Liège.
Also in 1993, he toured France on keyboards for singer Claude Nougaro (with Maurice Vander – piano; Jean-Marie Ecay ­ guitar; Laurent Vernerey ­ bass; Loïc Ponthieux ­ drums), and recorded a fourth album.
"Time Gone By" (AMC) features the Illusions Sensorielles trio of Paduart, Aerts and Castelucci, with the plangent trumpet and flugelhorn of Tom Harrell, and with guitarist Jean-Marie Ecay guesting on 3 songs.
"Folies Douces" (Igloo, 1994) represented a return to that special project with jazz accordionist Richard Galliano, Patrick Deltenre & co, with a suite of compositions inspired by the same muse as Illusions Sensorielles.
In 1995, after tours of Italy and Canada, Ivan began a two year international stint with Toots Thielemans – and invited him to participate on the song Ecoline for the next album. The CD ­ "White Nights" (Challenge Records) ­ also features Bob Malach and Philip Catherine as special guests.
From 1996 onwards, the focus becomes almost exclusively the trio format with Hans Van Oosterhout as regular drummer and a variety of different bass-players – although it would be Nicolas Thys who completed the trio for the CD "Clair Obscur" (Challenge Records) ­ Paduart's tribute to one of his favourite inspirational pianists and composers, Fred Hersch.
In 1998, after touring with him for three weeks, Ivan records "Belgian Suites" (Challenge records), with Bob Malach. The rhythm section on this CD includes Van Oosterhout on drums and Hein Van De Geyn on bass, although Stefan Lievestro would replace him for the trio which toured France, Denmark and Portugal in 1999.
Belgian promoter Christian Debaere next invited Ivan to contribute arrangements for a special Belgian septet which added Steve Houben (alto), Jean-Pierre Catoul (violin) and Peter Hertmans (guitar) to a rhythm section partnering the keyboards of Nathalie Loriers with Paduart, Lievestro and van Oosterhout.
For the album "True Stories" (Igloo) special international guest Charlie Mariano replaced Houben, and it was this band which toured Belgium during 2000 until the tragic death of violinist Jean-Pierre Catoul in a January 2001 car crash.
From this point, Ivan focused back on trio , releasing "Trio Live" (Omnivore/Virgin) in October 2001, and touring Sweden, Denmark, Norway, Switzerland, France, Italy, Netherlands, Luxembourg, and Belgium with special guest Rick Margitza, the last sax player with Miles Davis.
The trio occasionally calls on the collaboration of soloistes like Rick Margitza (for the album "Still" on A-records, in 2001) or Toots Thielemans, Toon Roos, Bert Joris and Fay Claassen in the double album Live "A Night at the Music village" (Jazz 'n pulz).
In 2003, Ivan Paduart was extensively touring with Rick Margitza, Toon Roos, Fay Claassen, Nigel Hitchcock, Toots Thielemans, Tierney Sutton, Anita Wardell (…) and recorded "Blue Landscapes" (with Philippe Aerts and Dré Pallemaerts) for the Japanese label VIDEOARTS MUSIC.
Among planed projects, end of January 2004, concerts and recording with Richard Galliano + l'ensemble de musique nouvelle under the direction of Jean-Paul Dessy ("Douces Illusions"/IGLOO records).
He plays some concerts with the Brussels jazz orchestra (january), and with Toots Thielemans on the festivals of Funchal/Madeira and Porto/Portugal (may).
On august 2004, after a tour with the guitarist Quentin Dujardin, he records "Vivre" (Arsisworld) ; this is his first experience in the field of the "World music".
On may 2005, he releases his first solo album "Alone" (Alone blue records) with takes issued from sessions in Porto/Portugal (studio MB) and Genk/Belgium (studio Crescendo).
June sees him touring in Macao (w/ Rick Margitza) and Japan (w/ his trio); he records a "A night in Tokyo" at the "Body and soul" (Tokyo) for the Polystar label.
On july, he records in trio a "My French heart" for Japan (instrumental versions of famous French songs).
On august, he plays for the first time in duo with his old pal Richard Galliano, at the Gaume jazz festival (Belgium) and in Mulhouse (France)
In 2006, Ivan Paduart plays regulary with Richard Galliano, including concerts at the Concertgebouw/Amsterdam, Sofia jazz festival and Marciac jazz festival (w. Richard Bona and Manu Katché).
The next year he's asked for recording 12 of his compositions with the prestigious Metropole orchestra, under the leading of Jim Mc Neely (arrangements by Michel Herr, Jim Mc Neely, Bert Joris and Ivan).
The live double CD "Crush" is recorded on december 12, 2008 at the Cirque royal/Brussels.
2011 sees him record "HERRitage", a tribute to his friend and colleague Michel Herr ; the 9 compositions are written by Michel and played by Ivan, Philip Catherine, Bert Joris, Toon Roos, Philippe Aerts and Hans Van Oosterhout. On october and november, he plays extensively with his trio (Philippe Aerts and Dré Pallemaerts).
In December, he plays 5 concerts with guitarist Sylvain Luc. On january 2012, he tours with his quintet, including Jeroen Van Herzele, Carlo Nardozza, Philippe Aerts and Joost Van Schaik.
In May 2012, he records 9 original compositions on "Ibiza" (Mons records) with Philippe Aerts and Hans Van Oosterhout.
In june, he records a tribute to Burt Bacharach on " Plays Burt Bacharach" (SEPTEMBER) with Bob Malach, Jay Anderson and Clarence Penn.
This session was recorded in Sear Sound studio (N.Y.C.) by James Farber (M.Brecker, C.Corea, H.Hancock,…).
In 2013 and 2014, he plays extensively with his trio (including international festivals…) for the promotion of "Ibiza".
In february 2014, he releases "Alone #" (Quetzal records), a remixed and remastered version of "Alone", including 3 extra tunes.
Ending april sees him participating to the new Jan De Haas album with fellows Sal La Rocca and Mimi Verderame.
April 2014 sees him participating to the album of vibraphonist Jan De Haas ("Dreams ago"/De Werf) with fellows Sal La Rocca (bass) and Mimi Verderame (drums).
In december, Ivan records "Enivrance" with Philippe Aerts (bass) and Hans Van Oosterhout (drums), a trio album with 9 own compositions.
Currently he is preparing a project with Manu Katché, Quentin Dujardin, Richard Bona and Bert Joris.
---
Awards
1987 1st price at the KNACK TROPHY, Oostende
1989 1st price at the JAZZ-RALLY, Brussels
1989 2nd price INTERNATIONAL JAZZ COMPETITION OF LA DEFENSE, Paris
1990 1st price INT'L COMPETITION OF FRENCH SPEAKING RADIOS, Brussels
1992 1st price INT'L COMPETITION OF JAZZ COMPOSITIONS, Monaco
1993 1st NICOLAS DOR price of composition INT'L JAZZ FESTIVAL, Liege